South Texas Whitetail Bow Hunts
Hebbronville, Texas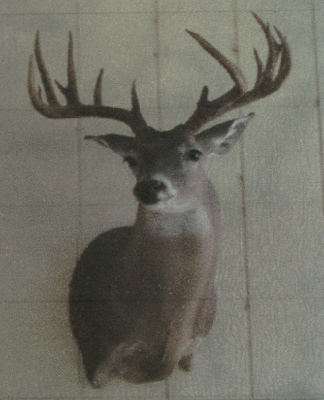 Photos on this site are of bucks taken from ranch.
What's Included:

Lodging on the Ranch.
All the comforts of home; air conditioning, heating, showers, and television.
Meals
Full guide service upon request; including video recording of hunt.
Transportaion to and from stands.
Pre-set blinds that are fed year round.
What to Expect:

Any type of weather; highs in the 91's, lows in the 20's.
Be prepared to shoot fixed blade broadheads; Expandable broadheads are not allowed, but most blinds are "coffin blinds" with a shoot through screen.
Over 6,500 acres under low fence.
We have been managing the ranch for many years and try to only take bucks that are 5+ years of age.
Fees:

$2000 for a 3 day hunt, hunt dates are negotiable.
$1000 trophy fee for buck deer.
For any buck scoring more than 130 gross inches, an additional fee of $100 per inch will be impossed. All scoring will be done by ranch guieds and is final.
50% deposit is required to secure hunt dates. Deposit will not be refunded, but can be transferred or renegotiated for another date during the same hunting year.
1 doe, 1 javalina, unlimited hogs and varmints can be taken. Due to the population, turkeys may NOT be taken.
In the event that a buck is shot and not recovered the initial trophy fee will apply. If the deer is later recovered and it is determined that fee adjustments should be made due to gross score, those fees will apply and the antlers will be shipped to the hunter.
All attempts will be made to recover all game. Deer tracking dogs are available if needed for an additional fee.
For more information please call 512-332-2921 or email us at lostpinestaxidermy@yahoo.com