New Mexico
Pronghorn Antelope Hunts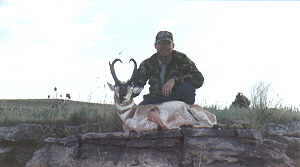 Capulin, New Mexico
3 Days $1750.00
Hunt the legendary Prairies of New Mexico. We have access to sixteen thousand acres in Prime Antelope habitat. The area boasts an extremly high population of Pronghorn. The hunt is a fast paced, wide open, action packed chance to take one of the fastest land animal in the world. We want you to come experience the hunt of a lifetime.
*100% shooting success.
*14"-16" Pronghorn with B&C opportunities.
*Test your shooting skills with over 300 yard shots.
Included in price:
*Guide
*Field Preparation of trophies
*Vehicle
Not included in the price:
*New Mexico Hunting License
*Processing, Taxidermy, Meals, Lodging
If you are looking for a Pronghorn hunt where you have the chance to see large amounts of game and take a great antelope, then this is the hunt for you.
Most bucks taken will be over 14" in length with great mass.
Styles of hunting we employ vary in their methods, but each one of the is effective.
*Stalking, where you take off on foot with you guide who has a innate knowledge of the Pronghorn is an exciting way to get close to these wary animals. Although the hunt can be moderately physical in nature, it is also very rewarding when you stalk up on a monster Pronghorn.
*From truck, driving until we spot a herd and trying to get as close as we possibly can has also proven to work in many instances.
Both methods provide you with a chance to get within range and make a shot.
The New Mexico Game and Fish boast this region to be very high in its numbers of trophy class animals.
You can stay in Raton, New Mexico at the newest Motel in town, it will put you roughly 30 minutes from the ranch. Another option is to set up camp at the ranch headquaters.
Half deposit is required ten days from booking your hunt. The second half to be paid in cash, travelers checks, or money order only.
References can be furnished upon request.
To book your hunt today or for more information please call 512-332-2921 or email us at lostpinestaxidermy@yahoo.com.