55 acre ranch that is heavily wooded. You will not feel like your are in a high fence on this hunt.

Protein fed year round for the last 5 years.

Began booking hunts only this year. (2006)

Bucks as large as 36"+.

No lodging, but there is a very nice motel approx. 6 miles from ranch.

Dinner will be served at the end of the day.

Buck and Doe $1500.00

Hunt Friday evening, all day Saturday and Sunday morning.

If for some reason no blood is drawn a 50% refund will be given.

Can hunt with rifle or bow.

Guide and Blinds will be furnished.

Can accommodate up to 3 hunters at a time.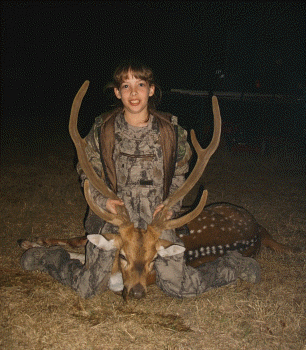 Please call or email to book your hunt.
Kim York
512-332-2921